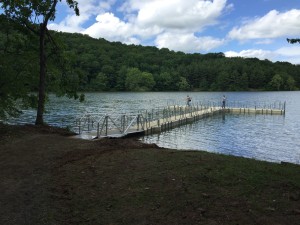 Visitors to Rural Retreat Lake in Wythe County will have yet another reason to smile this summer, as the Virginia Department of Game & Inland Fisheries (DGIF) has just completed work on a second fishing pier at the 90-acre impoundment – this one being located on the southern shoreline of the lake, roughly 1,000 yards from the dam.
According to DGIF officials, the pier, which has been constructed in the shape of a "T," extends approximately 69 feet from the bank and nearly 79 feet across the width of the "T".
"We're pleased with the investment DGIF has made in the lake and are certain that visitors to our campground will appreciate additional opportunities to fish," said Kevin Williams, Director of Parks and Recreation for Wythe County.
Wythe County tourism officials say that 2015 has been a spectacular year for the lake, as numerous improvements and renovations have been made to the park.
"Last month, we were named by the Virginia Tourism Corporation one of the '13 Favorite Virginia Campgrounds for Summer,' last week a local high school student caught a four-and-a-half foot long fish at the lake, and this week, DGIF unveiled a top-notch fishing pier," said Jeremy T.K. Farley, Tourism Director for Wythe County, adding, "It's just been a great season for the lake!"
In addition to the national publicity and visible improvements, DGIF has implemented several 'behind-the-scenes' enhancements to the impoundment.
The entrance to the emergency spillway was widened to be certain that water could enter and flow through as needed during a major storm event and an electronic rain gauge that links to emergency officials in Richmond was installed.
The Rural Retreat Lake is a partnership between Wythe County and DGIF – Wythe County manages the campground and surrounding facilities, while DGIF owns the impoundment.
In addition to the 74 primitive and RV-hookup campsites, the Rural Retreat Lake Park & Campground also includes the 90-acre fishing lake, a stocked trout pond, numerous hiking trails, picnic shelters, junior Olympic size pool and adjoining kiddy pool, 9-hole Frisbee golf course, and children's playgrounds.
The campground's official website is www.RuralRetreatLake.org. Individuals wishing to contact the campground may do so by calling (276) 686-4331.